Overview
Kerio Control Statistics is a web interface where you can view your own browsing statistics. With sufficient access rights, you can also see other users' statistics.
The statistics show traffic between the local network and the Internet. They do not include volumes of data transferred between local hosts and web pages on local servers.
Statistics are primarily used to create reports for a specified period. Gathering and evaluating statistics requires processing large volumes of data. To reduce the load on the firewall, the data is updated hourly, so, you cannot use Kerio Control Statistics for real-time monitoring of user activity.
Step-by-Step Guide
To open 
Kerio Control

 

Statistics

:
Launch your web browser and type your 

Kerio Control

 address. The address has this pattern: https://server:4081/ where server refers to the name or IP address of 

Kerio Control

, and 4081 represents a web interface port. 

WARNING: If your browser displays a warning about a certificate invalidity, continue. For more information, contact your Kerio Control administrator.

On the 

Kerio Control

 

Statistics

 login page, type your 

Kerio Control

 

user

name and password. If you do not know your credentials, contact your administrator.
Click Login.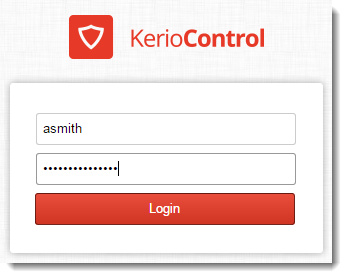 Printing
To print any page of the 

statistics

, click the Print button.

Clicking Print displays the current page on a new tab in a printable format.

Confirmation
You can now view the activity reports after logging into Kerio Control Statistics page and can also print it.